Embedded System Design
Firmware development service
---
Our firmware engineers are focused on building high performance, embedded and signal processing systems. We provide stand­alone embedded software (firmware) or implement embedded operating systems or real-­time operating systems. We offer a wide range of design, development and support services for embedded systems during all the phases of the product life cycle.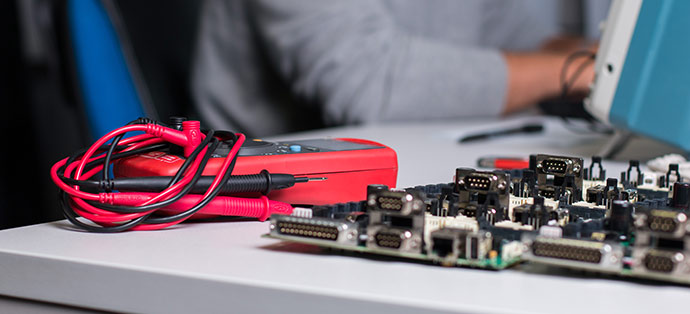 Skills and technologies
Interfaces
ADC and DAC converters
Accelerometers
Actuators and Motor control
Battery powered autonomous devices
Bluetooth
CAN
Ethernet
FPGA custom hardware functionality
GPS
GPRS
LCD/TFT, touchscreens
RFID (ISO15693, ISO18000-3, ISO14443A/B)
USB 2.0, 3.0
SATA
MBUS, Modbus
WiFi 802.11
Zigbee 802.15
Embedded processors
AM17xx, AM18xx, AM335x (ARM11, Cortex A8)
Blackfin
MSP430
OMAP
PIC
STM32, Stellaris (Cortex M3/M4)
TMS320C2000, TMS320C5000, TMS320C6000
Operating systems
Linux (including Real Time extensions)
eCOS
uC/OS
SYS/BIOS
FreeRTOS
FreeBSD
Programming languages
Assembly Language (ARM, Blackfin, C6000)
C
C++ (Qt)
C#
JAVA
Octave/Matlab
Script languages (BASH, TCL)
Verilog/VHDL
Technology providers
Texas Instruments (Design Network Member)
Analog Devices
Microchip (Partner)
STMicroelectronics
ARM
Looks interesting? Feel free to submit your enquiry below or download a PDF with company presentation.